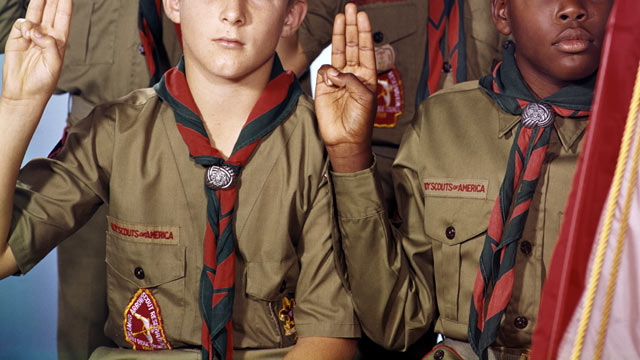 I've been following the recent developments around the Boy Scouts of America (BSA) and their "gay ban."  As most of you readers as aware, the official policy of the BSA is to deny membership or leadership roles to "open or avowed homosexuals."  This policy is in conflict with the official policy of the Church of Jesus Christ of Latter-Day Saints which states that members who do not engage in homosexual behavior may receive Church callings (Handbook 2, 21.4.6).
What has been most interesting (and disturbing) to me is the reaction of individual members of the Church.  Comments on various message boards and blogs range from permissive to apathetic to supportive to misguided to ignorant to downright nasty.  Unfortunately, far too many have fallen on the uninformed/prejudiced/cruel end of the continuum.  I've read unfounded claims that homosexuals are more likely to be sexual predators and assertions that allowing gays would be like allowing women or girls. The most offensive comments almost seemed comical; it was clear that they come from a place of intense fear.
As I've read the comments and opinions in various media, one pattern began to stick out to me.  The more I've read, the more clear it has become.  Underlying most statements supporting the current ban is an implicit acceptance of the adversary's lies about homosexuality.  Essentially, the message is this: "Gays are different."  At first, I wanted to say that this was an "old" belief.  You know, the old "Us vs. Them" mentality; the assumption that homosexuals would corrupt and lead astray innocent members of the Church and must be excluded.  Of course, any philosophy that separates us from each other is not of Him who prayed that we might be one.
How else does does that belief show up? I've heard suggestions that gay leaders or scouts be allowed to participate on the condition that they maintain the same "safety" boundaries that would be expected of females.  It sounds more loving than the pro-ban argument by analogy that admitting homosexuals would be similar to admitting females.  While more inclusive than the current BSA policy, this insistence on distinguishing between heterosexual and homosexual leaders betrays a subtle rejection of Church doctrine and policy.
We are taught that gender is an essential component of pre-mortal, mortal, and post- mortal identity and purpose.  The belief that "gays are different" implies that, somehow, God's plan doesn't apply to everyone.  Knowing what we do through the Restored Gospel of Jesus Christ, members of the Church ought to be the first to include all men and young men, independent of same-sex attraction, as an inseparable part of the Body of the Priesthood.  In Heavenly Father's ecology, no experience, attraction, or self-identification can remove us from our place as sons of God.
The reality is that the Lord's program is already beyond the BSA.  Consider the following examples:
A man may be called as a Bishop, Stake President, or General Authority, but not be allowed to serve as a Scoutmaster because of his unchosen attractions.
Any father of a scout can accompany his son on activities, regardless of his sexual attractions of behaviors, but attractions alone disqualify a young man from scouting.
A young man may be called as the President of his quorum, yet be prohibited from scouting activities.
With or without the BSA ban in place, don't we believe that the Lord is active in the government of His Church?  Or do we actually need a BSA policy to protect us from individuals we judge to be unqualified or unworthy?  Ultimately, I believe that the decision to delay a vote is a good thing.  It gives the Lord more time to work on the members of the Church.  Maybe sometime soon, the Church will be ready to accept doctrine.