Church Statements Concerning Gender Identity
The following are general Church proclamations and publications outlining doctrines of the Church regarding marriage and family which shape its position on gender identity.
An Excerpt from The Family: A Proclamation to the World
The Family: A Proclamation to the World was Issued October 1995 by the First Presidency and Quorum of the Twelve Apostles of the Church.
"All human beings—male and female—are created in the image of God. Each is a beloved spirit son or daughter of heavenly parents, and, as such, each has a divine nature and destiny. Gender is an essential characteristic of individual premortal, mortal, and eternal identity and purpose… We further declare that God has commanded that the sacred powers of procreation are to be employed only between man and woman, lawfully wedded as husband and wife."
Strengthening the Family: Created in the Image of God, Male and Female
One of a series of articles giving insight into study and use of The Family: A Proclamation to the World found in Ensign, January 2005
"Confusion about gender issues is rampant today. Some men and women experience same-sex attraction—a great trial for those who desire to be obedient to God's commandments… The trials of mortality are not easy, nor are they intended to be. But whatever our struggles, we can call upon divine doctrine, the power of the Atonement, and the Holy Spirit for help and comfort."
Gender Is an Essential Characteristic of Eternal Identity and Purpose
ENSIGN, VISITING TEACHING MESSAGE OCTOBER 2008
Teach the scriptures and statements that meet the needs of the sisters you visit. Bear testimony of the doctrine. Invite those you teach to share what they have felt and learned.
The First Presidency and Quorum of the Twelve Apostles:
"All human beings—male and female—are created in the image of God. Each is a beloved spirit son or daughter of heavenly parents, and, as such, each has a divine nature and destiny. Gender is an essential characteristic of individual premortal, mortal, and eternal identity and purpose" ("The Family: A Proclamation to the World," Liahona, Oct. 2004, 49; Ensign, Nov. 1995, 102).
Why Is Gender Essential?
Elder David A. Bednar of the Quorum of the Twelve Apostles:
"[Gender] in large measure defines who we are, why we are here upon the earth, and what we are to do and become. For divine purposes, male and female spirits are different, distinctive, and complementary. … The unique combination of spiritual, physical, mental, and emotional capacities of both males and females were needed to implement the plan of happiness" ("Marriage Is Essential to His Eternal Plan," Liahona, June 2006, 51; Ensign, June 2006, 83).
Julie B. Beck, Relief Society general president:
"As spirit daughters of God, women 'received their first lessons in the world of spirits and were prepared to come forth' (D&C 138:56) on the earth. They were among the 'noble and great ones' (D&C 138:55) who 'shouted for joy' (Job 38:7) at the creation of the earth because they would be given a physical body with the opportunity to be proven in a mortal sphere (see Abraham 3:25). They wished to work side by side with righteous men to accomplish eternal goals that neither can attain independently. Female roles did not begin on earth, and they do not end here. A woman who treasures motherhood on earth will treasure motherhood in the world to come" ("A 'Mother Heart,' " Liahona and Ensign, May 2004, 76).
VIDEO: "Gender Is An Essential Characteristic"
LDS.ORG MEDIA LIBRARY JULY 2010
"Laws, which govern life, were instituted from before the foundation of the world. They are not based on social or political considerations. They cannot be changed. No pressure, no protests, no legislation can alter them."
VIDEO: "A Voice Said 'I Am Not A Son'"
LDS.ORG, FEATURED FAMILY HISTORY VIDEOS
Official Publications Referencing Gender Identity
2010 Church Handbook of Instructions (CHI)
CHURCH HANDBOOK NOVEMBER 2010
While there are sections in the official, online 2010 Church Handbook 2 that address same-sex attraction and same-sex marriage, there are no sections that address gender identity, gender dysphoria, or transsexualism.
Because Handbook 1 (2010) entries on gender identity—and more specifically, in the context of transsexualism—are not made publicly available, they cannot be included here; if you would like more information, you may talk to your bishop or stake president. Relevant sections include 3.3.4, 5.2.10, 6.7.2, 6.12.10, 6.13.4, 16.3.3, 16.3.16, 16.7.4.
While you would need to consult with your local priesthood leaders for confirmation and counsel, it is our understanding that the following general policies are in place regarding gender identity and transsexualism—or, more specifically, if there are subsequent attempts at surgical transition:
An individual who is not a member of the Church and who is considering an elective transsexual operation may not be baptized or confirmed a member of the Church.
If an individual has undergone an elective transsexual operation and desires to join the Church, the mission president must conduct the baptismal interview, and final authorization for baptism and confirmation must be received from the First Presidency.
Church leaders counsel against elective transsexual operations, and if a member is contemplating such an operation, leaders advise him or her that the operation may be cause for formal Church discipline.
A member of the Church who has undergone an elective transsexual operation may not receive the priesthood or a temple recommend.
If an individual undergoes an elective transsexual operation and there is Church disciplinary action, the stake president or bishop submits a Report of Church Disciplinary Action form to Church headquarters. Following submission of the report, Church headquarters will automatically annotate the individual's membership record.
If an individual was disfellowshipped or excommunicated for an elective transsexual operation, or if he or she undergoes an elective transsexual operation after being disfellowshipped or excommunicated, the approval of the First Presidency is required before he or she may be reinstated to full fellowship or readmitted by baptism and confirmation.
General Authority Statements Referencing Gender Identity
Elders Oaks & Christofferson appear on Trib Talk to discuss religious freedom
ELDER DALLIN H. OAKS
ELDER D. TODD CHRISTOFFERSON
SALT LAKE TRIBUNE JANUARY; 28, 2015
Salt Lake Tribune (Trib Talk) interview with Elders Dalin H Oaks and D Todd Christofferson with Jennifer Napier-Pearce January 29, 2015 re: Protecting Religious Freedom and LBGT Rights:
Jennifer Napier-Pearce (JNP): "Here's a question from Tina Marie Off, who says, 'I have a transgender son, he came out to us about a year ago, but I've just told my Bishop two Sundays ago. I hate having the fear of what retaliation I might receive for supporting him. Some Bishops are awesome and loving and some people face the threat of being excommunicated. I think we as members need that assurance that we can indeed have our own opinions, support our children, and still follow our beliefs.'"
…
JNP: "…Is there a need for more direction from Church Headquarters?"
Elder Dallin H. Oaks (DHO): "I believe there is, but … we have about 30,000 bishops in the world, and there are differences, and we are constantly trying to teach (Bishops) correct principles, and where someone gets outside what is permissible, there is an appeal process, and that's a real appeal process. We know of cases that have been reversed upon appeal. So, we do our best in a Church with about 30,000 wards and branches to maintain uniformity and also the individual discretion, under the power of inspiration, that we give to our Bishops and Branch Presidents."
Elder D. Todd Christofferson (DTC): "There are two things there that bear emphasis. One is the mantle that a bishop has, and his spiritual gifts that come with that are very real. Secondly, we do recognize the need for constant training and share and we are committed to that ongoing, so that there is a greater uniformity, and a sensitivity so that we all understand the general principles that underlie the judgments that have to be made."
DHO: "Also this question concerned the issue of transgender, and I think we need to acknowledge that while we have been acquainted with lesbian and homosexuals for some time, being acquainted with the unique problems of a transgender situation is something we have not had so much experience with, and we have some unfinished business in teaching on that."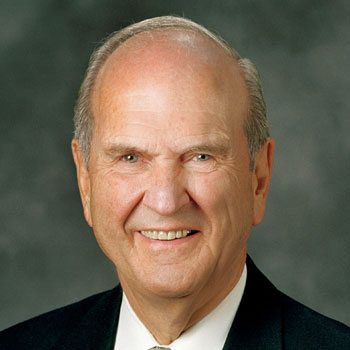 The Doctrinal Importance of Marriage and Children
ELDER RUSSELL M. NELSON
LDS.ORG JANUARY; 1, 2012
Brothers and sisters, I am very grateful for the restored gospel of Jesus Christ. It provides light to guide us in this world darkened by immorality, iniquity, and infidelity. It teaches us to love all of God's children, some of whom struggle with gender issues or other conditions that may not be fully understood. We need to help and encourage them and their family members without, of course, condoning sinful behavior.
Broken Things to Mend
ELDER JEFFREY R. HOLLAND
GENERAL CONFERENCE APRIL; 2, 2006
The following selection addressing gender identity is a segment of the larger address.
….
Are you confused with gender identity or searching for self-esteem?… Whatever other steps you may need to take to resolve these concerns, come first to the gospel of Jesus Christ. Trust in heaven's promises. In that regard Alma's testimony is my testimony: 'I do know,' he says, 'that whosoever shall put their trust in God shall be supported in their trials, and their troubles, and their afflictions' (Alma 36:3)."
….
The Father and the Family
ELDER BOYD K. PACKER
GENERAL CONFERENCE APRIL; 2, 1994
The following selection addressing gender identity is a segment of the larger address. Read the full address on LDS.org.
….
When we speak plainly of divorce, abuse, gender identity, contraception, abortion, parental neglect, we are thought by some to be way out of touch or to be uncaring. Some ask if we know how many we hurt when we speak plainly. Do we know of marriages in trouble, of the many who remain single, of single-parent families, of couples unable to have children, of parents with wayward children, or of those confused about gender? Do we know? Do we care?
"Those who ask have no idea how much we care; you know little of the sleepless nights, of the endless hours of work, of prayer, of study, of travel—all for the happiness and redemption of mankind.
"Because we do know and because we do care, we must teach the rules of happiness without dilution, apology, or avoidance. That is our calling" (bold added).
A Chance to Start Over: Church Disciplinary Councils and the Restoration of Blessings
ELDER M. RUSSELL BALLARD
ENSIGN SEPTEMBER; 1, 1990
The following selection referencing gender identity is a segment of the larger article. Read the full address on LDS.org.
….
The First Presidency has instructed that disciplinary councils must be held in cases of murder, incest, or apostasy. A disciplinary council must also be held when a prominent Church leader commits a serious transgression, when the transgressor is a predator who may be a threat to other persons, when the person shows a pattern of repeated serious transgressions, when a serious transgression is widely known, and when the transgressor is guilty of serious deceptive practices and false representations or other terms of fraud or dishonesty in business transactions.
"Disciplinary councils may also be convened to consider a member's standing in the Church following serious transgression such as abortion, transsexual operation, attempted murder, rape, forcible sexual abuse, intentionally inflicting serious physical injuries on others, adultery, fornication, homosexual relations, child abuse (sexual or physical), spouse abuse, deliberate abandonment of family responsibilities, robbery, burglary, embezzlement, theft, sale of illegal drugs, fraud, perjury, or false swearing" (italics in original; bold added)."
Message to Young Men
ELDER BOYD K. PACKER
GENERAL CONFERENCE OCTOBER; 2, 1976
The following selection addressing gender identity is a segment of the larger address. Read the full address on LDS.org.
….
There is a falsehood that some are born with an attraction to their own kind, with nothing they can do about it. They are just "that way" and can only yield to those desires. That is a malicious and destructive lie. While it is a convincing idea to some, it is of the devil. No one is locked into that kind of life. From our premortal life we were directed into a physical body. There is no mismatching of bodies and spirits. Boys are to become men—masculine, manly men—ultimately to become husbands and fathers. No one is predestined to a perverted use of these powers" (bold added).
The Eternity of Sex
ELDER JAMES E. TALMAGE
YOUNG WOMEN'S JOURNAL OCTOBER; 1, 1914
The Church of Jesus Christ of Latter-day Saints affirms as reasonable, scriptural, and true, the doctrine of the eternity of sex among the children of God. The distinction between male and female is no condition peculiar to the relatively brief period of mortal life; it was an essential characteristic of our pre-existent state, even as it shall continue after death, in both the disembodied and resurrected states.
"That birth or even its antecedent, conception, in no wise marks the creation of a being who before that event did not exist, is abundantly attested by the revealed word; it is positively declared that every child born to earth lived as an individual spirit, male or female, in the primeval world. There is no accident or chance, due to purely physical conditions, by which the sex of the unborn is determined; the body takes form as male or female according to the sex of the spirit whose appointment it is to tenant that body as a tabernacle formed of the elements of the earth, through which means alone the individual may enter upon the indispensable course of human experience, probation, and training.
"That the vital distinction of sex characterizes life on earth cannot be questioned; its antemortal and postmortal existence may be thought by some to require demonstration." (Young Women's Journal 25 [October 1914]: 600.)
Mormon Newsroom Articles on Gender
The following are statements published by the Mormon Newsroom or Newsroom Blog as they response to media, events, and public discussion relevant to gender identity and The Church of Jesus Christ of Latter-day Saints.
Brookings Institution Panels to Discuss Religious Freedom and Nondiscrimination
16 MARCH 2015 PRESS RELEASE
The Brookings Institution and the Deseret News will host a forum today, Monday, March 16, 2015, in Washington, D.C., discussing religious liberty and anti-discrimination protections for the LGBT community. The Church of Jesus Christ of Latter-day Saints applauded recent passage of legislation in Utah, Senate Bill 296, which balances religious freedom and non-discrimination.
Two panel discussions are available by live webcast from noon to 1:45 p.m. (MDT) at the Brookings Institution, a nonprofit public policy organization. The first panel, which will include discussion on the Utah legislation, will feature moderator Paul Edwards, editor of the Deseret News; Mike Leavitt, former Utah governor; Ben McAdams, mayor of Salt Lake County; and Clifford Rosky, University of Utah law professor and chairman of Equality Utah. The second panel features leading national experts.
Church Applauds Passage of Utah Senate Bill 296
12 MARCH 2015 PRESS RELEASE
The Church of Jesus Christ of Latter-day Saints issued the following statement today regarding the passage of Utah Senate Bill 296:
"We are pleased that the Utah Legislature has passed Senate Bill 296. It reflects the very best of collaboration and statesmanship from groups and individuals who may not always agree on all things but who have passed landmark legislation that balances religious freedom and antidiscrimination. While other states may find a different solution, we hope this fair, balanced approach shows that fairness for all is possible. The Church applauds the efforts of the Utah Legislature and other members of the community for this historic accomplishment."
Explaining Religious Freedom and LGBT Rights
12 MARCH 2015 PRESS RELEASE
The following simple explanation in non-legal terms is provided to help members of The Church of Jesus Christ of Latter-day Saints and others understand the background and the decisions relating to the passage of bills in the 2015 Utah legislative session that bear on important principles of religious liberty and LGBT rights.
Utah Lawmakers Introduce Bill Balancing Religious Freedom and Nondiscrimination Protections
4 MARCH 2015 PRESS RELEASE
Republican and Democratic lawmakers in Utah came together Wednesday to publicly support a bill that provides robust religious freedom protections while also extending protections for LGBT people in areas of housing and employment.
Other community leaders, including senior representatives of The Church of Jesus Christ of Latter-day Saints, attended the conference and spoke in support of Bill 296, titled "Anti-Discrimination and Religious Freedom Amendments."